Peekaboo! Asher took this one

I look like shit in this. Just woken up. I'm not sure why I took a picture


Rhett took this one randomly. I love when he does that...

I was out at some park with Zac. Him and his damned camera.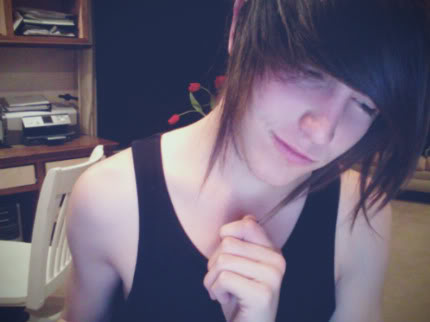 Rhett and I had just fucked. I was tired as hell but had to get up and video chat with Joss and tell him about it.

This was after Rhett killed me that one time and I was drunk at Asher's.... He was trying to get me to go to sleep but I was hiding from him.
Last picture I took in MY house before I moved in with Rhett. I loved that place but I love living with my Rhett even more <3
This is my nerd look. Rhett enjoyed it


My favorite picture of myself. Ashley took it. I love his dumbass.
Rhett had to leave for a few days to do something for Trever. I sent him this picture while he was gone.

I took this one when Rhett was gone too. It was cold without his warm ass around.

Rhett made me uncomfortable by talking dirty. No one has ever done that before. He is just... awesome.

This was at Asher's house after Rhett killed me. I look like shit.

I took this for Rhett one time. Its sitting on his bedside table, so are a few more of me:)

Another one of him making me uncomfortable. Damn his accent...

He took this after fucking again. I don't like it. My nipple looks weird.
Asher, Joss and Zac took me out after I was all depressed when Rhett killed me.

I love this picture. I look sexy


Was cuddling with Misery on the couch one night.

My hat kicks ass!

I was on the phone in the top picture. Then Rhett gave me his horny face. Yeah... the phone went away after that

Rhett accidentally touched that really sensitive spot on my stomach. The only pain I don't like.
Joss took this one. Love that boy to death

Just thinking about Rhett... I never knew I could love so much.

I'm young in this one. Gabriel took it.

Rhett loves my tongue

Ohh, speaking of tongues, I need to see how he feels about rimming...

After Joss and Ashley came over once. They ruined my mirror. Fuckers.

I just got my hair cut in this one. By Asher. It took forever for me to trust him not to fuck it up.

I figured I'd try sexting. Yes, I know I'm not naked in this one. Only Rhett got that one


Look at my dimpless! I look like such a twink.

Wow, I look like total shit in this picture. Ew! My forehead is all wrinkly!!

Ohhh, look at my six pack.Hell yes.

At the mall with Joslin, Ashley and Zac.
That is my sexy face. Like it?

Zac and Asher dared me to whip it out in public xD
We got bored one day and hired some makeup artist to make us drag queens

I'm normal in this one. I'm the one with the hat. The "chick" is Zac xD He makes an awesome girl. He kept falling in his heels though.

Chick Zac again. Isn't he pretty? We're a cute couple


Ashley drag queen!! He was an amazing girl. He rocks them heels

Normal Ashley with chick Joslin. Joslin was such a hoe, flirting with all the straight guys. he let one get him in bed, see his dick and run off screaming. I love him xD
And there is yours truly as a girl. A sexy girl. With Zac. Yes... I know we have mental problems...

Some dude I met at a club. He fucked me that night. Didn't even have the decency to take me to his house, we fucked in the alley beside the bar.

Zacky, I luv youuu


Gotta love my Joslin!


Can't forget Ashley either.

Misery <3 Love him.

MY man. Rhett Braxton <333 I fuckin love him to death. I can't live without him.
__________________




Posts

: 2824


Join date

: 2011-07-15





Similar topics
---
Permissions in this forum:
You
cannot
reply to topics in this forum